Candidate
How to Slay in your Next Phone Interview
By LANDED Team • 26 February 2022 • 5 mins read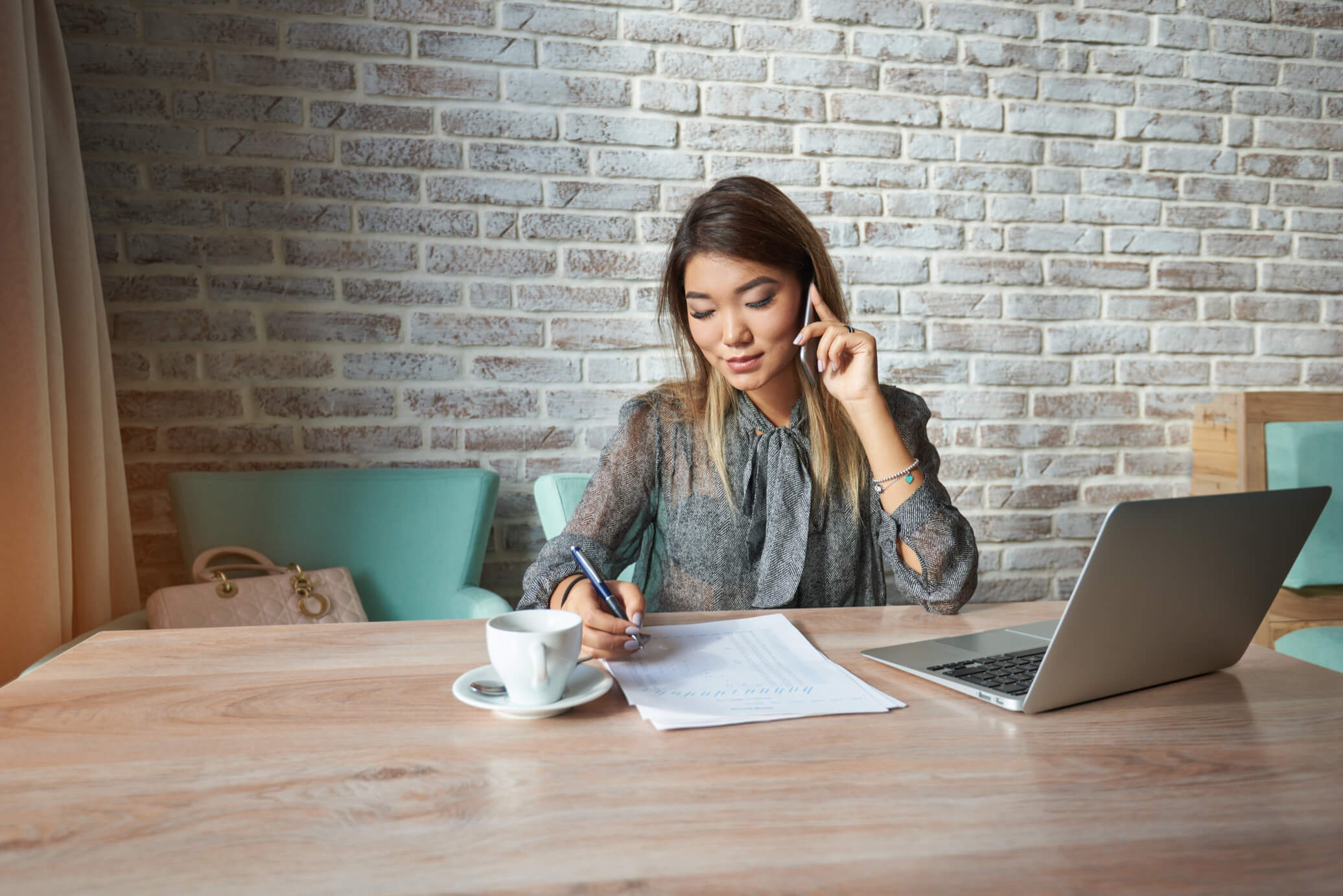 What are employers really looking for when they ask questions like: tell me about yourself?
Have you been offered a phone interview? If you're reading this blog post then chances are you have – congratulations! It means you're one step closer to securing your dream and some extra padding for that wallet.
Interviews are a nerve-wracking occasion, and if you've never been through one on the phone before, it can appear a little daunting. It's only natural that you might prefer meeting the interviewer in person – when we sit opposite someone, we're able to read their facial expressions and body language and adjust our responses accordingly. Don't fret though: prepare and research for it in the same way you would any interview and follow our top five tips… and you'll slay your next phone interview!
1. Know the company in and out
Before you answer your phone, you should have a great understanding and knowledge of the role and the company. Almost every interviewer will ask you some kind of question about why you want to work for their company, so it's important THAT you're able to answer in-depth and not just provide a generic, unrelated response.
Check out the company website – perhaps they have some updated blogs or have shared some recent news articles related to them on their social media. What types of products do they tend to carry? What are some key aspects of their branding? Maybe they're big on their social side of things and have an early finish on Mondays but things really tend to pick up on weekends: whatever it might be, by understanding the company you'll not only be able to answer with ease but you'll also be able to demonstrate your interest.
Example: One of the main reasons I would like to work for Ulta is the culture of progression you have. I read your recent blog looking at the success some of your colleagues had and it was great to see how they were able to grow. I'm also a believer of teaching others how to do their own makeup. This is something I can contribute to as an artist.
2. Remove all distractions
Just because you can undertake the interview at home does not mean you should be laid out on your couch in your PJs. Find yourself a quiet space away from any distractions, which means turning off the TV or your Spotify and keep your gadgets on silent. Get yourself in the right frame of mind for the interview by dressing for it. Interviewers can tell if you're taking this seriously or are slouching around on a couch, it comes across in the tone of your voice and your answers.
If you are taking the interview in your house, shut out any pets or get someone to look after your children for the scheduled time. The last thing you want is a baby to suddenly start crying or your dog to be barking whilst you're trying to explain your experience. It might be a good idea to take notes during the interview too, so you can ask follow up questions at the end – definitely come prepared to ask questions, because this is also your chance to make sure this role is a great fit for you. In this case, use a pen and paper rather than your computer; the sounds of a keyboard clicking can seem like you're distracted on something else.
3. Listen to the interviewer
This is one of the golden rules when it comes to phone interviews. Without being able to see the person you are talking to, it can be hard to determine when they've finished talking, so it becomes very easy to accidentally interrupt them. Don't worry about taking a few seconds to think before answering the question, so your ideas come across clearly. Interviewers don't expect you to know everything, so make sure to be honest about your past experiences and knowledge – stress that you're just ready to learn and soak everything in.
Similarly, you don't want to talk too much – after all, it's a conversation so you don't want it to become a one-sided monologue on why you're so great.
4. Speak with a smile and be upbeat
Speaking with a smile transforms your voice: It makes you sound far more friendly and engaging. Don't believe us? Try it yourself – record yourself saying the same sentence, once with a smile on your face and once without; you'll be able to tell the difference.
Keep your tone upbeat too, it will show you're eager and interested. Remember to show your enthusiasm, for example you could start strongly by introducing yourself:
Example: Thank you for giving me the opportunity to speak to you today. The job description was really exciting so I was really pleased to get this chance to speak with you.
5. Be friendly and prepared
It's very easy to start a phone interview strongly and trail off towards the end. The role of the interviewer in this process is to determine how good a fit you are not only in terms of qualifications and skills but also personality – you're going to be the face of these brands for customers, so interviewers are looking for people who can represent their brand well.
Try not to speak too fast or give short, bland answers. Most interviewers will ask you similar questions so prepare your answers and ensure you are selling yourself in the best possible way. Some typical examples of questions you could be asked and the style of answers you should answer include: What is it about this job that interests you?
This is your chance to show how well you've prepared for the interview and understand the job role. Pull out key points from the advertised job description and use it to your advantage to reveal your qualifications and skills:
Example: One of the things that really appealed to me about this role was the opportunity to engage with customers on a daily basis. I love helping people in any way I can, something I was able to do while volunteering at my local clothing donation center. I also value being around people that inspire me to be better, and I believe that I will be able to experience this on a daily basis at Starbucks.
How soon can you start?
This is often a question that throws off a lot of interviewees. You want to appear keen and interested but don't overpromise and underdeliver out of eagerness. Know your earliest start date before the interview and the flexibility around it but then stick to it. Use the question to your advantage to show your commitment to your work, without agreeing to a date that might not be possible. You want to make sure you are reliable and dependable from the very beginning.
Example: I'm currently on a notice period of two weeks so that would be the earliest I could start. My current employers have been very good to me, so the last thing I want to do is let them down, but I could discuss an earlier start date that benefits everyone.
Why should we hire you?
Again, this isn't a trick question, it's your chance to succinctly sell yourself in one clear and passionate way. Let them know what values you have that make you perfect for the role and relate it back to the job description.
Example: As mentioned earlier, I'm incredibly passionate about furthering my career and I feel the role that XYZ is offering is a fantastic opportunity for me to begin a new experience and build on the foundations I've already made. I notice the job is very client facing, which is something I'm particularly interested in as my volunteer work let me meet people from all over the world; helping me realize how much I enjoy interacting with people and giving them the very best service.
What are your greatest strengths and weaknesses?
This is your chance to be honest, we all have things we are good at and not so good at – that's just being human. Use this as your opportunity to show how eager you are to learn and improve on your skill set.
Example: I think that one of my greatest strengths is the ability to work in a team. Having grown up playing a lot of team sports like basketball, it was instilled in me that we're all aiming for the same goal and by working together, we can achieve it. That's the type of attitude I plan on bringing to work every day. I think perhaps my biggest weakness is occasionally not speaking up and sharing my ideas until I'm super confident about them. This is something I'm actively work on, and I'm hopeful the friendly team environment you have here will enable me to achieve that.
Of course, these are not the only questions you will be asked so do your research beforehand and make sure you are fully prepared to answer them. Remember to link them back to the job description and the company wherever possible. End the interview on a high as well and tell them you look forward to hearing from them again soon and that they can always reach out with follow-up questions.
Having a phone interview might seem a daunting prospect at first, but if you treat it just like you would any other interview then you are sure to slay it and secure your dream role!
Looking for a job ASAP?
Get landed at top companies like Panera, Chick-fill-A, Applebee's & more
Get started
Get the latest tips & tricks from LANDED
We'll keep you in the loop on what's going on in the modern working world.
We'll only send awesome stuff, never spam 😉